Village Plans
see the proposed plans for the new community facilities


Click to see the plans

You can comment on the hall layout and the overal plan.
* * * * *
Marcham Village Shop
and Post Office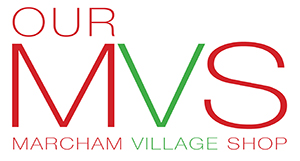 Hot drinks - only £1.20!
Cold drinks and ice cream - at a table or take-away
Normal Opening Hours
07.30 - 18.00
every day,
07.30 - 13.00 on Saturday
08.00 - 13.00 on Sunday
Free cash withdrawals on most bank accounts

AGM: Monday 12 October 8pm, MSSSC
All shareholders welcome - and if you want to become a shareholder, pop into the shop!
* * * * *
Casa Margarita
Spanish music, stories and song
Performance details:
Saturday, 10th October 2015 at 7.30pm
The Holywell Music Room, Oxford University, Holywell St, Oxford, OX1 3SD
Tickets £14, £12 for Over 60s or £8 for Under 18s/full-time students
Available from:
Box Office: The Oxford Playhouse, Beaumont Street, Oxford, OX1 2LW Phone: 01865 305305 www.oxfordplayhouse.com
* * * * *
Jubilee Walks
Download the map for the Jubilee Walks around Marcham from the Marcham Society website http://www.marchamsociety.org.uk/jubilee_walks_map.php
* * * * *
Village Diary
The online village diary is now available here
If you have an event that you would like included please email editor@madnews.co.uk with the title, date, time, contact details and a short description
* * * * *
Marcham Mini Bus
To hire the mini bus, contact Marion Belcher 07507 797757
Have you got things you want to get rid of but don't want to throw away? Are you looking for something that you'd rather have for nothing? Try FREEGLE - you'll be amazed at what you can find!

* * * * *
www.365alive.co.uk
365 Alive could SAVE YOUR LIFE!
High Court Apology
Debbie Prichard
Local Chartered Engineer Debbie Prichard has been given an apology from her former business partner. Read the full press release here.
Anson Trust
Click for the 2013 Accounts
* * * * *